My Team
Through Northwestern Mutual, I have access to a Network of Specialists. We help each other, share ideas and common values, and leverage each other's talents to help you achieve your personal dream of financial security.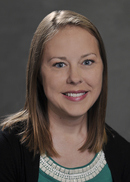 Melissa K Shukis
Associate Financial Advisor
Office 832-510-1717

Melissa is a native Houstonian with a BS in Meteorology from Texas A&M University. She transitioned from Education to follow her true passion to be a part of a dynamic team to positively impact the lives of others. Melissa enjoys reading, quilting, traveling and spending time with family and friends, including her three dogs: Riley, Callie, & Arya. Melissa is Jennifer's office manager. Among her many roles, she manages all aspects of client relations to include client requests and questions regarding policy owner services  and customer accounts while ensuring they are handled with accuracy and expertise. Additionally, she assists clients through the underwriting process by acting as the liaison between our clients and the underwriter. She also manages and oversees the day to day office activities for Jennifer.

Melissa Can Help You With:

Questions or concerns throughout the underwriting process of new contracts, from exams to policy delivery
Running quotes for new policies for family members and exercising benefits on your existing policies
Questions or concerns regarding your existing policies including, but not limited to,  premium payments, bank account changes and beneficiary updates
Questions regarding your investment accounts